In February 2002 we relocated to our current location. Our main building consists of the sanctuary, which has the ability to seat 1000 people, and classrooms for every age group from newborns to senior adults. Within a few years of moving into this building, our children outgrew their wing requiring us to move the grade school students to classrooms in the adult wing. Now our babies, toddlers, and preschoolers are quickly filling their own wing.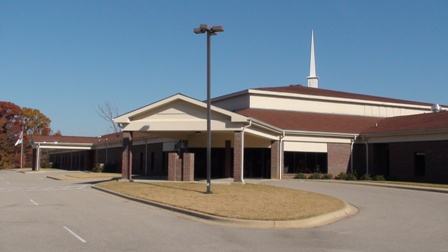 In 2006, God blessed us with a multi-purpose Family Life Center. This building includes a gymnasium, cardio workout room, weight room, walking track, fireside room, Crafters' area, student worship center and meeting rooms, and many additional classrooms.
The Family Life Center has become an essential part of our church's ongoing ministries. The UPWARD program provides opportunities for all children in the community to play basketball and cheer. This facility also provides ample space for people of all ages to meet together for fellowship and just plain fun.
You are awesome, O God, in your sanctuary;
The God of Israel gives power and strength to His people.
Praise be to God!
Psalm 68:35
The history of Tannehill Valley Baptist Church is truly fascinating. In 1827 a group from a church in Rock Creek, which is about 20 miles from our present location, left to start a new work in the McCalla area. They were led by an African American slave known as Job. This group started as the Roupes Valley Baptist Church of Christ.
The first building was constructed in 1827 but burned around 1840. A second building was completed and served as both a church and community school until the 1930's, when it was joined with McAdory School. The next facility was built in the 1940's, and in 1949 the church was renamed Bucksville Baptist Church. In 1967 a new sanctuary was built, and in 1993 a Family Life Center was constructed.
As you have noted, the church has gone through several name changes. From Roupes Valley, to Bucksville, to now Tannehill Valley. The church was renamed Tannehill Valley Baptist in 1991 to reflect the changing community and to identify with the changes the community was experiencing.
Over the past years the Lord has blessed us with wonderful growth. This growth led us to relocate in February of 2002. Located just a half mile from our original property, we are now in a worship center with the ability to seat 1000. In 2006, a multi-purpose Family Life Center was built that included a gymnasium, workout room, walking track, Fireside room, Student worship room, and many additional class rooms.
Tannehill Valley has a wonderful past, a joy in the present, and a vision for the future. Come catch the vision with us!