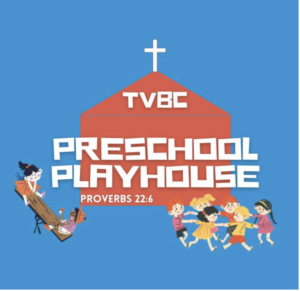 Birth
-K5
About Our Ministry-
We are so blessed to have the opportunity to make a lasting imprint of our Heavenly Father on your preschooler! Our curriculum focuses on sharing the gospel in simple and fun ways. Our goal is to help parents instill the foundations of faith in their sweet littles. We want our kids to know some basic truths—God loves me, He made me, and He takes care of me.
TVBC Sundays:
Sunday School 8:45 AM – Nursery and Little K (Preschool Children's Church) 10 AM
Babies
Even the youngest can experience the love of Jesus. Our nursery volunteers are here each Sunday because they truly love and care for babies. We provide a clean, safe, and nurturing environment where babies can play and grow.
Toddlers-3K
Our toddler classes combine playtime with learning, teaching kids the gospel in innovative ways. During this time, we reinforce basic truths in the Bible while engaging them in age-appropriate play.
4K-5K (Little K)
Our preschoolers engage with scripture through story time, music time, and fun crafts. We seek to encourage them to learn Bible stories and practice scripture memory in creative ways.
TVBC Preschool FAQ:
-What time can I

drop

off my child?

Rooms are open 15 minutes prior to service times. We ask that a parent/responsible adult always stay on campus while your child is in our care.
– Do I need

to

bring anything with me?

Our rooms are stocked with all your child may need during their time with us. We ask that, if you choose to bring items from home—diaper bag, bottle/cup, change of clothes—they are properly labeled so as to know who each item belongs to. Please encourage your child to leave personal toys at home. This will help to avoid any confusion or loss of items. We want your child's special treasures to stay safe! ☺
-What if my

child

has special requirements?

No problem! We will take note of this during check-in. Our check-in system is able to note any special needs/allergies your child may have. We ask that you take a moment and let the classroom staff know any info we might need pertaining to your child's feeding, napping, or changing schedule.