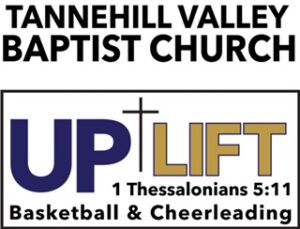 COST: $95
READ ALL INFORMATION THOROUGHLY BEFORE REGISTERING
For years, TVBC has hosted Upward Basketball and Cheerleading. We have decided to make a few changes to the program. The new name is "UPLIFT" Basketball and Cheerleading. While we will retain much of the structure, there are several important changes. Please take time to read the following information to ensure you and your child can meet the requirements.
Purpose of Uplift
1. To share the message of Jesus with families involved
2. To teach Biblical truths of life to the participants
3. To train participants in the basic skills of basketball and cheerleading.
4. To encourage good sportsmanship and respect toward fellow teammates and opponents.
We will continue to have the grade divisions for basketball:
Boys
1-2 Grade
3-4 Grade
5-6 Grade
Girls
1-3 Grade
4-6 Grade
Cheerleading: K5 thru 6th grade
Cheerleading only starts with K5
Cheer squads will be divided into two groups:
K5-3rd Grade and 4th-6th grade.
Cheer Practice nights: – to be determined
Players Per Team
Each team will be limited to 8 players. Registration will be closed after the limit is reached for the division.
For example: if there are 4 teams in the Boys 3-4th grade division, the limit will be 32 players.
All afterwards will be placed on a waiting list. To be officially registered, payment must be created through online registration. FOLLOW ALL STEPS in registration.
Evaluations: (Basketball)
There will no longer be a single night of evaluations. There will be 3 Saturday "camps" 1 Hour 30 minute time slots for each division. These camps will teach basic skills, and serve as the time for coaches to observe each player's skill level. At the end of the 3rd camp, the coaches will meet and seek to form the teams based on the 3 weeks of observations. Our desire is to make each team as evenly dispersed in skill as possible. (See scheduled in this brochure)
Saturday Camps – Nov. 11,18, Dec. 2
8:30-10am – Girls 1-3 Gr. & 4-6 Gr.
10:30am-12noon – Boys 1-2Gr. & Cheer Squads
12:30-2pm – Boys 3-4 Gr.
2:30pm-4pm – Boys 5-6 Gr.
Practices:
Practices will be 1 night a week for one hour. Each practice will include a brief devotion time.
Practices will be during the weeks of:
December 4, 11
January 8, 15, 22, 29
February 5, 12, 19
Here is when the teams will practice. We will no longer offer the ability for you to choose when your child practices. If you are unable to abide by this schedule, please do not register.
Mondays –
6PM—Girls 1st-3rd Grade
7PM—Girls 4th-6th Grade
Tuesdays-
6PM— Boys 1st-2nd Grade (4 teams)
7PM— Boys 5th-6th Grade
Thursdays-
6PM—Boys 3rd-4th Grade
7PM— Boys 1st-2nd Grade (2 teams)
Games will be each Saturday beginning
January 20 thru February 24.
All games are at TVBC
Parent's Meeting
Parent meetings will be held on the first 2 camp days. All parents will need to attend one of them.
REGISTRATION
Link: https://forms.gle/nCYf9gKDmP8oAYyx5